RosettaStoneInc.com Home Page
Welcome to the Hee-Haw-Hooome Page of the
Barron Park Donkeys!
YouTube Video of Donkeys 5/27/07
The Barron Park Donkeys have been well and truly loved by generations of children and adults since 1936. As June Fleming, a previous City Manager, once pointed out, they could be considered to be the "sacred" donkeys of Palo Alto.
Our present two donkeys are a miniature, named Perry (Pericles - born 1994)) and a standard, Miner 49er (born 1984), who answers to both Niner and Miner.
Perry was the model for Shrek's Donkey in the movie Shrek.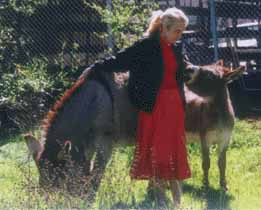 Inge & Friends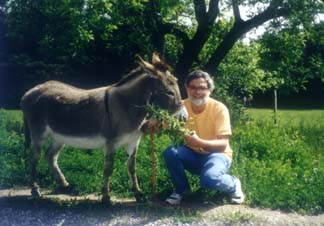 Perry & Doug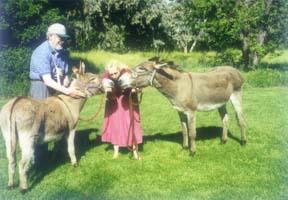 Leland, Inge & Friends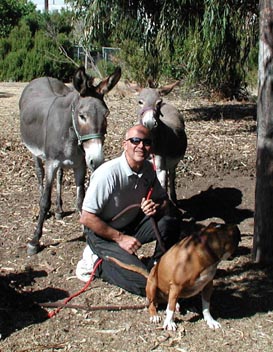 Vet Gary Haines after being nipped by Miner & bonged by Perry.
Leo, Gary's dog, is being restrained because he didn't like action.

The Donkey's official owner is ACTERRA (the Palo Alto Donkey Project), who graciously provides insurance and tax deductibility of donations collected to cover the cost of food and farrier and vet bills.

If you would like to help provide food, shelter and vet care for the donkeys, your tax deductible donation must be made out to

ACTERRA — Palo Alto Donkey Fund (ACTERRA must be included), and sent to:
The Palo Alto Donkey Project
ACTERRA
3931 E. Bayshore Rd.,
Palo Alto, CA 94303.
Phone: (650) 962-9876
www.Acterra.org


A volunteer group of about 16 Donkey handlers provides all the necessary care, feeding, etc.
DONKEY STORIES
GHOSTS ON STORMY NIGHTS
MINER 49er ARRIVES
PERRY - OUR MINATURE DONKEY
WALKIES
ESCAPE ARTISTS ALL
BRAN MASH - MICKEY'S FAVORITE FOOD
DONKEY JOYS OF YUCCA
NOTES BY JIM BRONSON

You are the person to visit this page.
Links: SafeHaven4Donkeys.org

This page was created by Cyberstars.com in September, 1996
© 1996 - present
http://www.RosettaStoneInc.com/california/donkeys/index.html